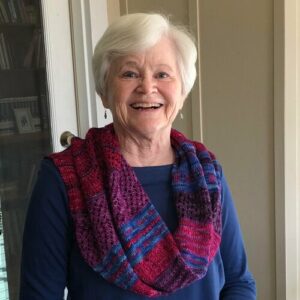 Mary Earle is an Episcopal Priest, Author, Poet, Retreat Leader and Spiritual Director.
Until her retirement, she taught classes in spirituality for the Seminary of the Southwest in Austin, Texas. Mary has authored ten books; the subjects include the spirituality of living with illness, rule of life, Celtic Christian spirituality, the Desert Mothers, and Julian of Norwich. Her latest is a book of her poetry.
Mary has offered presentations and retreats in a variety of ecumenical settings, including conferences of the Academy for Spiritual Formation, Spiritual Directors International, the International Thomas Merton Society, Oblate School of Theology and hospice organizations. She has written articles for a variety of journals, including Presence: the Journal of Spiritual Directors International, Radical Grace, Reflections, and The Lutheran. She was included in the Living Spiritual Teachers project of Spirituality and Practice.
Mary and her husband Doug live in San Antonio, Texas with their border collie, Fiona, a cat named Xochí, and lots of garden flora and fauna.  Mary is also a knitter and weaver, so her office is full of skeins and balls of yarn. Their son Jason is a professor of French at Sarah Lawrence College in New York.
Mary and Doug were numbered among the 2018 recipients of the Humanitarian Award from United Communities of San Antonio for their contributions to eliminating racism, prejudice and bullying and for their work to promote inclusiveness and diversity in the community.