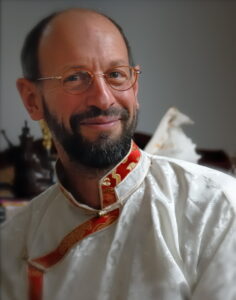 Lama Mark Webber (Lama Yongdu Chokyi Gyaltsen) has been studying and teaching Buddha Dharma (the teachings of Liberation through the traditions of Buddhism) for over forty years. He was born in 1956 in Toronto. Through a strong interest to understand awareness by using the mind to study the mind, he started practicing meditation at the age of 16. He used the only book on meditation in his local library for his instruction; "Tibetan Yoga and Secret Doctrines" edited by Evans-Wentz, a collection of Kagyu, Nyingma and Mahayana meditation texts and teachings. In the same year, determining that he needed an accomplished spiritual teacher, he began to formally study Buddha Dharma and meditation with his first teachers Karma Chorpel Dolma (Beatrice Raff) and Lama Karma Thinley Rinpoche.
Ven. Thinley Rinpoche introduced and gave instructions on the Karma-paksi Guru Yoga, the Karma Kagyu Extraordinary Foundation Practices (non.dro) and Vajra Yogini meditations. He met his root teacher the Venerable K. T. Dorje Namgyal Rinpoche in 1974 and shortly after took Refuge and received numerous empowerments and instructions from H.H. the 16th Gyalwa Karmapa.
The Ven. Namgyal Rinpoche was an extraordinarily great meditation master and a superb Dharma teacher who was a precious mentor to Lama Webber as well as to so many other beings.