Emily Gambling, Occupational Therapist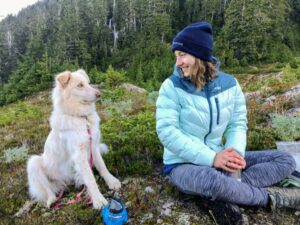 Emily Gambling is an Occupational Therapist, certified Forest Therapy Guide, and mindfulness facilitator. She is passionate about health promotion,  quality of life, mental health and wellness, and providing holistic and evidence-based care. Emily practices mindfulness and forest bathing in her personal life and continues to experience the value of these practices on both a personal and professional level. She hopes to share these practices with the community, open the doors for others to experience the powerful effects of nature, and learn from others in the process. In her clinical practice, Emily takes a client-centred approach to care and integrates a variety of evidence-based therapeutic techniques to support clients to live well.
Emily is a Registered Occupational Therapist, a member of the Canadian Association of Occupational Therapists, a certified Forest Therapy Guide (Association of Nature and Forest Therapy Guides and Programs), and completed her Mindfulness-Based Stress Reduction Intensive Teacher Training with the Centre for Mindfulness Studies.