Pranayama
With Basha Nemeskeri
June 11 - 12, 2022
Pranayama promotes relaxation and mindfulness, in addition to supporting all of the major systems of the body such as digestion, nervous, lymphatic and endocrine systems. In this 10 hour course, distributed over two days, students will learn not only how to control/direct and emphasize different breathing patterns, but also how to begin to study their own innate habits and tendencies. Learn how pranayama influences mood and behavior.
WHY TAKE THIS COURSE? Meditation and pranayama are helpful allies in our toolkit of mental wellness and are being integrated into many workplaces beyond yoga studios. It is becoming more and more common for a coach, parent, guide, mentor, teacher, doula/midwife, therapist, and bodyworker to be more informed about how the breath affects the body and mind and to be able to complement their work with pranayama.
Breath and meditation are some of the most accessible tools regardless of age, fitness, or disability, and it's for this reason, so accessible.
Open Enrolment (All interested Students Welcome) Registration is with the Manipura Yoga College
Click here to register for the food and accommodation package available at Bethlehem Centre while attending Pranayama.
Teacher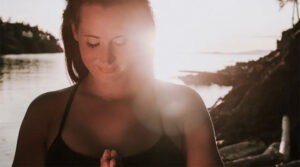 Basha Nemeskeri
"I have been teaching yoga for the past 12 years both in British Columbia and Mexico. While the physical practice of yoga (asana) was where I first found my passion, over time this interest has expanded to include pranayama, meditation, yoga nidra and philosophy. I am an experienced Teacher Trainer, providing Teachers insight based on passion and interest amassed over many, many years."
Learn more about Basha Nemeskeri