Senses of the Soul: Emotional Therapy
With GuruMeher Khalsa
March 3, 2024
Program Description
Senses of the Soul- Full Day with Author & Program Creator
GuruMeher Khalsa, International Yoga Teacher, Author, Yoga Therapist & Coach
In this workshop, the author of Senses of the Soul – Emotional Therapy for Strength, Healing, and Guidance will give you game-changing concepts and direct experiences to resolve chronic emotions and challenging issues. Difficult emotions that haunt us have evolved purposes and benefits. When understood and used consciously, they form a complete therapeutic system anyone can learn, practice, and master for self-regulation and trauma healing. Yoga and its enhanced self-awareness are vital in utilizing the natural healing power of feelings. You will leave the morning session feeling lighter and with a clear path to better mental-emotional health.
In the afternoon you will put those heavy but helpful emotions to work solving any current issues and challenges or simply creating more ease and peace in your life. Based on his book Emotional Liberation – Life Beyond Triggers and Trauma, GuruMeher will guide you through a compassionate understanding of the things that upset you and those you love. You will discover 'exit strategies' from dysfunctional reactions and relationships and create a plan to change habitual patterns.
The day includes information, helpful worksheets, meditation, discussion, and expert coaching designed to support your emotional wellness and spiritual maturity.
Teacher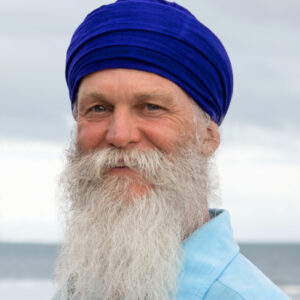 GuruMeher Khalsa
GuruMeher has taught and trained teachers internationally in Kundalini Yoga for 40 years. His personal quest for healing and decades of clinical experience as a certified Yoga Therapist and Professional Life Coach led to the discovery of the positive use of 'negative' emotions as keys to our natural system of psychological self-healing. His book, Senses of the Soul: Emotional Therapy for Strength, Healing and Guidance, offers a complete exposition and training in this simple and effective method to use difficult feelings as tools for personal growth. Emotional Liberation – Life Beyond Triggers and Trauma is a practical guide to self-regulation,…
Learn more about GuruMeher Khalsa