Generative Poetry-as-Prayer Retreat
With Richard Osler
January 29 - 31, 2024
Lighting the Lantern of Prayer and Poetry— a word from the Poetry-as-Prayer Retreat Facilitator Richard Osler
Please come and join a group of fellow retreatants, and experience lighting the lantern of your white page or blank screen. Experience writing poems as prayers.
This image of lighting the lantern was inspired by this beautiful small poem by the Canadian poet Patrick Lane (1939-2019):
When I Sleep
When I sleep the birds come to the garden
With their gifts of seeds out of ice
Last year's leaves of grass lift into night.
All my songs have been one song.
The palm of my hand and the sole of my foot
remember everything I have forgotten.
The old lantern by the pond has always been there.
Now is the time to light it.
Patrick Lane from Collected Poems, Harbour Publishing, 2011
Please consider this invitation and if you accept it, bring all of who you think you are, your successes and losses, whatever it is you would like illuminated by a prayer, a poem. And discover a truth claimed by Christian Wiman, celebrated poet, essayist, former editor of Poetry and teacher at Yale Divinity School: I have at times experienced in the writing of a poem some access to a power that feels greater than I am…
This retreat is for all seekers with little or no writing experience or those who are experienced writers (poets). The retreat will be fueled by great devotional poetry in three poetry-as-prayer adventures (including a pre-retreat adventure) and at least one in-session adventure.
Teacher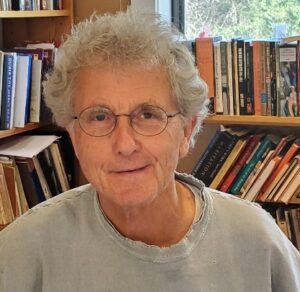 Richard Osler
Richard Osler, 72, is an experienced poetry therapist, poetry retreat and workshop facilitator and active poet whose full-length poetry collection – Hyaena Season – was released in 2016 by Quattro Books, Toronto. He has facilitated numerous poetry-as-prayer retreats in Canada and the U.S. during the past fifteen years and many general poetry writing retreats including four ten-day retreats in Italy. Currently, he works as a poetry therapist at a residential addiction recovery center near Courtney/Comox on Vancouver Island.  For more information and to read posts from his poetry blog which he has published since 2010 please visit his website at www.recoveringwords.com
Learn more about Richard Osler