Compassion for Self, Compassion for Others – T'is always the season for Kindness
With Dr. Cheryl Fraser
December 8 - 11, 2023
Island Dharma presents:
Compassion for Self, Compassion for Others – Tis always the season for Kindness
December 8th-11th, 2023
Annual winter weekend retreat with Cheryl Fraser at the Bethlehem Centre in Nanaimo
When things change and we are faced with difficult times, how do we act toward ourselves? According to the teachings of Buddha Dharma, we should treat ourselves with the same thoughtfulness and care we would show toward a good friend. In this extended weekend retreat, we will develop the qualities of mindfulness and loving-kindness – two key aspects of emotional resilience and psychological well-being. We will explore self-compassion, and from there, compassion for all. For it is through the realization that it is not just "me" who suffers that the heart opens to the needs of others. We are reminded that suffering, failure, and disappointment are part of our shared human experience. For no matter how well things are going in life, at some point they will change. The truth of impermanence can awaken the heart of compassion and wisdom and support us to handle the changes with courage and grace.
This silent meditation retreat will include periods of Samantha (calming concentration practice), Vipassana (insight), and Mahamudra(open awareness of mind). There will be some guided visualization practice and yoga will be offered. Daily Dharma talks and some group interviews with the teacher will be part of the experience. Suitable for both novice and experienced meditators.
Teacher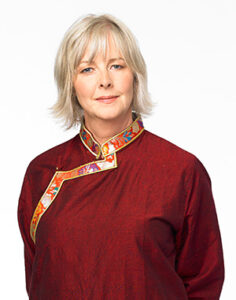 Dr. Cheryl Fraser
Dr. Cheryl Fraser has been studying Buddha-Dharma for 20 years and teaches in the Namgyal lineage tradition. Her root teachers are the Venerable Kyabje Namgyal Rinpoche and Lama Mark Webber She also studied with Lho Ontul Rinpoche and Phillip Moffit, former Esquire magazine editor-in-chief and C.E.O., a Buddhist teacher at Spirit Rock Meditation Center. As a registered clinical psychologist in private practice who specializes in couples, and long-time practitioner in both the Vajrayana and the Theravada Vipassana traditions, Dr. Cheryl draws extensively from Western science and psychology, skillfully applying even the more complex teachings of Buddha-Dharma and meditation to "real life." Dr, Cheryl…
Learn more about Dr. Cheryl Fraser