Writing Home: A Whole Life Practice Series
With Mary Ann Moore
January 22 - March 4, 2024
The Writing Home: A Whole Life Practice circle is for people ready to embark on a heart-opening and creative journey through writing. Seekers of all spiritual paths will be encouraged by what is revealed in their own life story, assisting them in the awakening of the wisdom and creativity they already possess. Writing Home (also a book by Mary Ann Moore) is a writing pilgrimage consisting of seven exploratory stages following the seven chakras.
Here are the themes covered in the "Writing Home" circle:
At the Threshold;
The Longing for Home;
The Sacred Call;
Departure: Leaving Home to Find Home:
The Pilgrim's Way;
Arrival: At Home in the Body: and
"Bringing Back the Boon."
Writing Circles with Mary Ann Moore
In a writing circle, we apply the ancient wisdom of the circle to a modern application: a sacred ceremony of writing, sharing, and listening where each person is respected for their presence and contributions. The ceremony offers a container to acknowledge each person in the circle; to create a sense of safety; to lessen any anxiety; and to honour the writing shared.
The Tibetan tingsha is rung to offer some grounding in the present moment. We take three deep breaths. I read a poem to begin which relates to the theme of the circle. There is a "checking in" for each person to share their name and perhaps where they're from. I may ask for one word to describe how each person is feeling that particular day. We use a talking piece for this checking-in to remind each person to take a turn to speak and the rest of us will listen.
There are also guidelines for the circle that include the Four Laws of Respect including: "What we say in the circle stays in the circle."  
A writing circle has a theme and writing is done following a question or possibly, a line in a poem. Writing for ten minutes up to twenty minutes, participants can see just how much ground can be covered when one drops any judgment about what they're writing and get in touch with what matters to them.
Teacher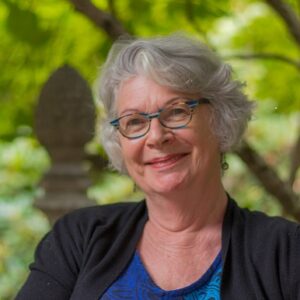 Mary Ann Moore
Mary Ann Moore (she/her) is a poet, writer, and writing mentor who lives on the traditional lands of the Snuneymuxw First Nation in Nanaimo. She has been leading writing circles since 1997 including in a First Nations community; for the mental health community; for women, elders, and youth. Mary Ann offers poetry workshops in Nanaimo as well as a weekly women's writing circle called Writing Life. Her poetry, essays, and book reviews have appeared in numerous publications. Mary Ann has written two writing guides: Writing to Map Your Spiritual Journey (available as a digital workbook from iajw.org) and Writing Home:…
Learn more about Mary Ann Moore