Contemporary Ecstatic Chanting (January)
With Leah Hokanson
January 21, 2024
Since time immemorial, humans have gathered in spiritual communities to sing and chant together. Community singing is, in essence, community building—opening us to our sense of shared humanity, and to Spirit, Source, the Divine (whatever language you choose) through voicing a common purpose and intention together.
Leah Hokanson will lead a monthly Contemporary Ecstatic Chanting gathering. The chants are "Diamond Chants"—original musical compositions, written by Leah, to be accessible to all regardless of singing ability.
Playfully referred to as "ecstatic pop," Diamond Chants blend the simplicity of the chant form, the wisdom and inspiration of ecstatic poetry, and the eclectic groove and tunefulness of popular music, including jazz, R&B, pop ballad, gospel, funk and world music. Lyrics are drawn from both original texts as well as wisdom teachings from many spiritual traditions, including such luminaries and mystics as Rumi, Hildegard of Bingen, Hafiz, Walt Whitman, Julian of Norwich, Kabir, Thomas Merton and others.
We invite you to visit leahhokanson.bandcamp.com/album/diamond-chants-the-heart-3 to hear a variety of Diamond Chants recorded with a community choir.
Teacher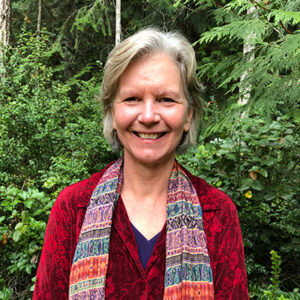 Leah Hokanson
Leah is a lifelong adventurer of music, sound and listening—as a group facilitator, community choir leader, pianist, improviser, singer/songwriter and certified sound healing practitioner. She is co-founder (with Lynette Jackson) of Sound, Belonging & Wholeness, offering programs that explore vocal sounding and intentional listening as portals to Presence, healing and transformation. She also directs the Song Keepers Women's Choir (Gabriola) and is Music Director at the First Unitarian Fellowship of Nanaimo. She's worked with many esteemed vocal artists and sound healing pioneers, including Chloé Goodchild, Jill Purce, Rhiannon, and Karina Schelde. Leah holds a master's degree in piano performance and…
Learn more about Leah Hokanson