Clear Sky Mind – Abiding in an Ocean of Tranquility
With Gen Kelsang Zopa
October 18 - 22, 2023
The Boddhichitta Centre presents:
Clear Sky Mind
We often feel stuck in painful habits of thought, such as anxiety, feelings of hurt, or depression. Because we perceive our minds to be fixed and unchanging, we feel trapped inside these painful emotions. But this seemingly inflexible mind does not correspond to the true nature of our mind. In this retreat, we will be guided on a voyage of exploration of our own minds through which we will discover our potential for inner peace.
"When the turbulence of distracting thoughts subsides and the mind becomes still, a deep happiness and sense of contentment naturally arise from within."  – Venerable Geshe Kelsang Gyatso Rinpoche
By meditating on the clarity of our mind, we will come to understand that our potential for change is limitless and that both freedom from unhappiness and the attainment of enlightenment are definitely possible. We can then initiate a joyful process of profound transformation.
This retreat includes instruction, guided meditations, and group prayers.  There will also be time to enjoy a stroll around Westwood Lake where you'll find bluffs with a spectacular view of the lake and Mt. Benson or just to contemplate and read.
Choose to come for the entire retreat or just the weekend.
Teacher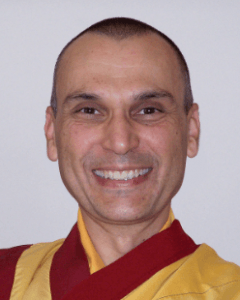 Gen Kelsang Zopa
Gen Kelsang Zopa is the Resident Teacher at Kadampa Meditation Centre Victoria (Bodhichitta Buddhist Centre).  He is a Canadian Buddhist monk who has been presenting the profound and practical teachings of the Buddhist path for over 25 years. He teaches introductory classes, Foundation Program, Teacher Training Program and conducts retreats on Vancouver Island.  Renowned for the clarity and depth of his teachings, his warmth and practicality bring to life the ancient art of meditation.
Learn more about Gen Kelsang Zopa