Why Meditate? Uncovering the Wisdom Mind
With Dr. Cheryl Fraser
July 5 - 8, 2023
Join Island Dharma for this Silent Summer Retreat
Why Meditate? Uncovering the Wisdom Mind
As so many appreciative students know from direct experience, Dr. Cheryl is a highly regarded Dharma teacher who has been teaching at Bethlehem and elsewhere for many years now. In this retreat, she asks the question – "Why Meditate?" Many beings come to the study of Dharma (teachings of Buddhist philosophy) and the practice of meditation to change something. Perhaps you are drawn to Buddhism because you want more calm, less distraction, more happiness, less pain and suffering. Yet according to the Buddha, we do not need to "get" anything. Rather, we simply need to uncover the clear, calm, loving, luminous mind that shines underneath the clouds of our confusion. The Awake, Compassionate mind is available at all times. This silent meditation retreat will focus on practices that help liberate the peace, joy and kindness of the Awake mind. We will explore the nature of compassion and wisdom. This retreat will also focus on assisting students to build strength, or merit, through the exploration of the 6 Perfections (Parami)- Generosity, Integrity, Patience, Diligence, Concentration, and Insight.
This silent retreat will include sitting and walking meditation. We will focus on the practice of Mahamudra, or Open Awareness meditation. There will also be periods of concentration practice, using breath as an object. There will be yoga classes offered (moving meditation in the form of yoga is an excellent support for the sitting meditation practice). There will be Daily Dharma talks and group interviews with the teacher.
This retreat is suitable for experienced students who have a daily meditation practice and/or have attended at least one silent retreat. However, interested novices are welcome providing you are willing to jump in and participate fully in the retreat.
Registration Closes June 30th
Teacher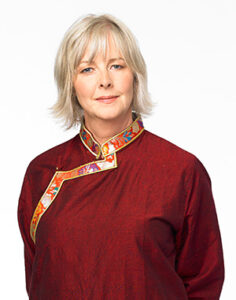 Dr. Cheryl Fraser
Dr. Cheryl Fraser has been studying Buddha-Dharma for 20 years and teaches in the Namgyal lineage tradition. Her root teachers are the Venerable Kyabje Namgyal Rinpoche and Lama Mark Webber She also studied with Lho Ontul Rinpoche and Phillip Moffit, former Esquire magazine editor-in-chief and C.E.O., a Buddhist teacher at Spirit Rock Meditation Center. As a registered clinical psychologist in private practice who specializes in couples, and long-time practitioner in both the Vajrayana and the Theravada Vipassana traditions, Dr. Cheryl draws extensively from Western science and psychology, skillfully applying even the more complex teachings of Buddha-Dharma and meditation to "real life." Dr, Cheryl…
Learn more about Dr. Cheryl Fraser