Bodhichitta Centre: The Buddhist Way of Loving Kindness
With Gen Kelsang Zopa
April 19 - 23, 2023
The Buddhist Way of Loving Kindness
In this retreat, we will focus on Buddha's meditations on love and compassion. First, we need to gain spiritual confidence by recognizing the pure potential of our own heart and mind, our Buddha nature. Then we can begin to open our hearts to others and let go of our closed, defensive, and self-centered state. Through strengthening our love for others we discover boundless freedom from within.
"Minds such as love and kindness are based on reality and are an expression of our true nature."  Venerable Geshe Kelsang Gyatso
Love is a powerful force for healing, transformation, and forgiveness. It has the power to gradually overcome anger and resentment, transform relationships, and pave the way to a Buddha's enlightenment.  We all have some experience with love, but we may not realize how easy it is to cultivate and grow pure love in our hearts through meditation.
Meditation on love and compassion elevates our mind to its highest state, bodhicitta. Bodhichitta is a mind that spontaneously wishes to attain enlightenment for the benefit of all living beings.  It is our inner Spiritual Guide and the real wish-fulfilling jewel through which we can fulfill our own and others' wishes.  In this retreat we will listen to, contemplate, and meditate on Buddha's teachings to help us develop this precious mind of bodhicitta.
This weekend retreat includes instruction, guided meditations, and group prayers.  There will be time to enjoy a stroll around Westwood Lake where you'll find bluffs with a spectacular view of the lake and Mt. Benson.
Teacher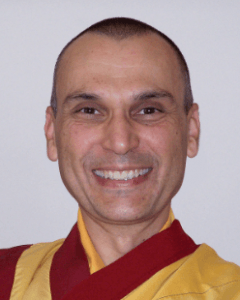 Gen Kelsang Zopa
A Canadian Buddhist monk, Gen Zopa has been presenting the profound and practical teachings of the Buddhist path for over 25 years.  Renowned for the clarity and depth of his teachings, his warmth and practicality bring to life the ancient art of meditation.
Learn more about Gen Kelsang Zopa