Kundalini Yoga and Meditation (June)
With Jay Suttonbrown
June 3, 2023
Change and learning are life-long. In our modern age, full of complexity and challenge, we require useful, accessible, and proven tools
Come and learn the Manipura Way™: movement, breath, emotions and guidance.
You will experience powerful movements that develop willpower, dissolve negative thought patterns, strengthen the body and clear the nervous system.
Build physical vitality and increase consciousness. Get ready for some big sound* as you deepen your connection of body and breath.
The Manipura Way™ is an evolution of Yogic practice. More than mind, body, and spirit… This unique system of Self-Guidance harnesses the power of emotional intelligence and the expansion of conscious awareness with the power of Yoga practice and technology. Learn the integration of movement, breath and feeling so you can understand and skillfully operate, heal, and care for your TOTAL Self.
Open to all levels, no previous experience necessary.
* Our work is a blend of silence, soft and large sound. We use large audio speakers. Not recommended for students with auditory sensitivities.
Please bring a yoga mat, supports for a meditative seat, layers for comfort, and a sealable beverage container. You may find a journal useful following practice.
Teacher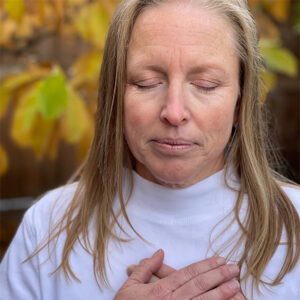 Jay Suttonbrown
Jay Suttonbrown, BA, B.Ed, ERYT-500, YACEP Emotional Liberation Facilitator Founder and Director of Manipura Yoga College BA, B.Ed, ERYT-500, YACEP Jay Suttonbrown has been a teacher of transformation for the last 25 years. Whether rethinking accessibility for students with special needs within the public school system, establishing a multi-faceted Yoga College in British Columbia, or working as an Emotional Liberation Facilitator, Jay's mission is clear: offer people the tools they need for inner guidance and self-regulation so they step into personal empowerment and peace. Jay Suttonbrown uses her decades of training to support clients to embrace movement, breath and feeling to understand and skillfully operate,…
Learn more about Jay Suttonbrown