Beyond Anxiety and Anger (Emotional Insight) (6-9)
With Jay Suttonbrown
April 1 - May 9, 2023
Saturday, April 1st from 9 am-3 pm
Then Tuesday Evenings 6-8 pm
In Person and Live Online
Do you feel lost in sensations of stress, anger, irritation, anxiety, fear and struggle? Do you desire to be able to understand and navigate your emotional landscape? Do you feel hopeless in the face of difficult feelings?
"Hopelessness arises out of a combination of negative life events and negative thought patterns, particularly self-blame and a perceived inability to change our circumstances." ~Brene Brown
I have been a Yoga and Mindfulness Teacher and Trainer for two decades. Yet in my life journey, I was still challenged by big emotions. So I went to study with the BEST and learned… Emotions are a CRITICAL part of our life experience, they are the senses of our souls.
We store trauma in our bodies, our nervous systems, our hearts and our minds. In order to heal, we need the tools to activate conscious awareness with a multi-sensory approach (conscious breath, movement, guided awareness).
Emotions are not something to avoid, numb, bypass or "overcome." They are an integral part of our sensory system and powerful allies WHEN WE KNOW HOW TO WORK WITH THEM. They "feel bad" to get our attention. When attended to, they are direct guides to peace, contentment, wholeness, self-acceptance, and love.
Come explore HOW:
To use movement, breath and meditation to cultivate the strength and clarity to work with your emotions, rather than be overwhelmed by them.
To move from anxiety to peace.
To source your true power.
To meet your unique needs.
To trust your feelings, guide your self-awareness to experience deep self-acceptance, inner healing, and fulfillment.
Self-Guidance harnesses the power of emotional intelligence, movement and expansive meditative awareness to work with difficult emotions, embedded patterns and trauma.
The Course
Class Recordings available during the course for review and practice
Investment $795 (plus GST)
Includes:
Full Day Immersion Saturday, April 1st, 9 am-3 pm (In-person or Online for your convenience)
Online Group Check-In at 6 pm, Monday, April 3rd: Learn to Navigate the Course, access recordings, download materials, and attend classes online when you choose.
Tuesday Evenings from 6-8 pm, April 4th-May 9th (In-person or Online for your convenience)
Daily practice provided
Written Practices you can download and keep
Weekly Journalling and Reflection opportunities
Weekly Tune-Ups INCLUDED ($60 value) Practice what we learned on Tuesday, Recordings will be available to you anytime.
1 Hour Online Personal Consultation Session Scheduled for your convenience, ($130 value)
Online Group Check-In at 6 pm, Tuesday, May 30th: Reconnection and Communication; after three weeks of independent work, reconnect, ask questions and share how your journey is progressing.
Our work is a blend of silence, soft and large sound. We use large audio speakers. Not recommended for students with auditory sensitivities.
Please bring a yoga mat, supports for a meditative seat, layers for comfort, a journal, and a sealable beverage container.
Teacher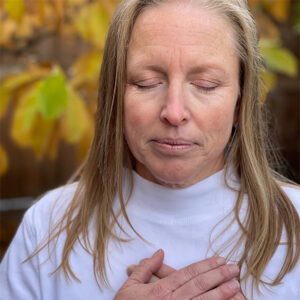 Jay Suttonbrown
Jay Suttonbrown, BA, B.Ed, ERYT-500, YACEP Emotional Liberation Facilitator Founder and Director of Manipura Yoga College BA, B.Ed, ERYT-500, YACEP Jay Suttonbrown has been a teacher of transformation for the last 25 years. Whether rethinking accessibility for students with special needs within the public school system, establishing a multi-faceted Yoga College in British Columbia, or working as an Emotional Liberation Facilitator, Jay's mission is clear: offer people the tools they need for inner guidance and self-regulation so they step into personal empowerment and peace. Jay Suttonbrown uses her decades of training to support clients to embrace movement, breath and feeling to understand and skillfully operate,…
Learn more about Jay Suttonbrown